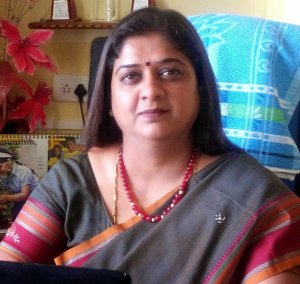 Ms. Vidya Shankar

Head of School
Lakshya International School.
Dear all,
Greetings and Welcome to Lakshya International School !!
 "Times and conditions change so rapidly that we must keep our aim constantly focused on the future." -Walt Disney
We at Lakshya International School understand this clearly and firmly believe in this. The pandemic and the challenges it has posed only strengthened our belief. Therefore we work constantly to impart education that would bring about a positive transformation in all our children.
The pandemic has completely changed the outlook towards schooling and education. Though challenging, the IT support system at Lakshya, has enabled teachers make learning seamless for all our children.
"One child, one teacher, one pen, and one book can change the world" -Malala Yousafzai
Our strength is in our dedicated, trained and timely upgraded teachers who use technology to introduce concepts and build them through various activities.
Apart from varied curricular activities, the school also offers a plethora of age appropriate co-curricular and extracurricular activities and field trips, which not only cater to the overall development of children but also makes them more confident and future ready. Our teachers help children achieve the 21st century skills and thereby transform them into confident and thinking individuals.
We understand that individual success increasingly depends upon the students' interpersonal dexterity, creativity, ability to innovate, and our collective success, ability to navigate complexities and to build and sustain a peaceful world also hinges on these kinds of skills.
Our continuous effort is to provide an array of enriching experiences to our students . It is and will remain our persistent endeavor to ensure that our students, while becoming global citizens are also deeply rooted in our culture. We are devoted to prepare our students for a world in need of highly skilled professionals as well as empower them to be the intellectual and ethical capital of the world.
Join us to experience a life-changing and educational journey!